'People Friendly Living'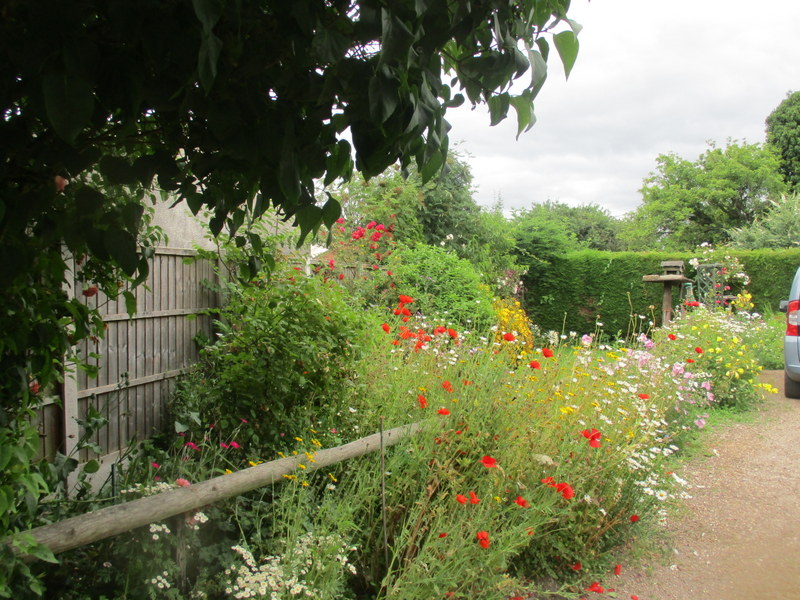 Micro-holding un-bliss -----

Here at the organic micro-holding (small smallholding) in the UK midlands, the cold, wet weather that seems to have been a feature for much of June hasn't been too good for growing conditions. The broad beans are well behind where they'd be normally, and the onions are struggling, looking poor at the moment, hopefully they'll make a recovery - they've had the nettle juice treatment. Salad stuff such as lettuce , radish and land cress has all grown patchily and root crops such as beetroot and swedes have established themselves slowly.
On the plus side, the four rows of peas don't look too bad (conveniently forgetting the fifth -- ) and the potatoes have yielded reasonably well, having been planted early under bubble wrap plastic to aim to beat the airborne virus disease that is blight, which no doubt due to the damp conditions , appeared quite early. This time last year, in the heatwave conditions, calabrese was being cut and used -it's useful as a vegetable and also as a stir-fry component - but this year it's still at least a week or two from being ready to harvest. A visit to the walled garden of an estate at last revealed how strawberries got their name -------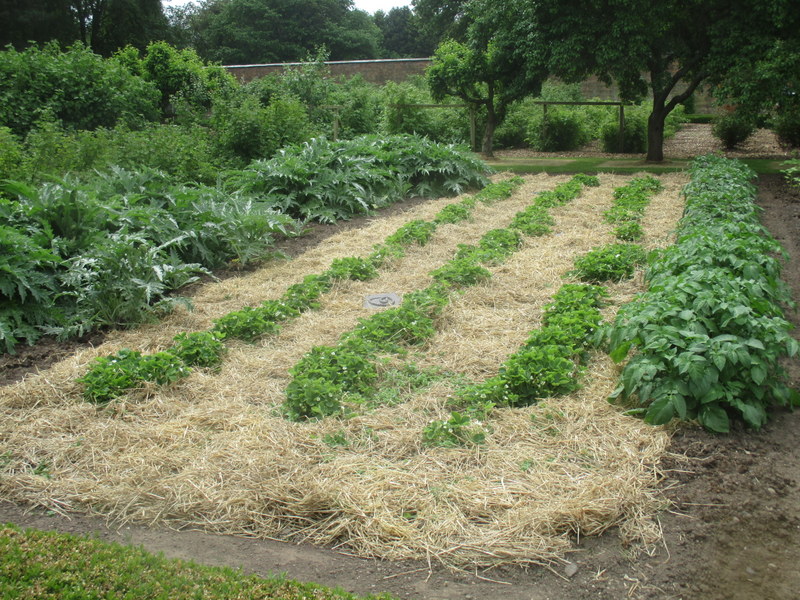 The cottage garden-style flowers though look tremendous and do the spirit good in these tricky weather times, as does the general level of vegetation around the place -it's getting to be almost like a mini jungle, which is a nice effect in terms of co-existing with nature ---- One of the secondary benefit  of all the wet weather has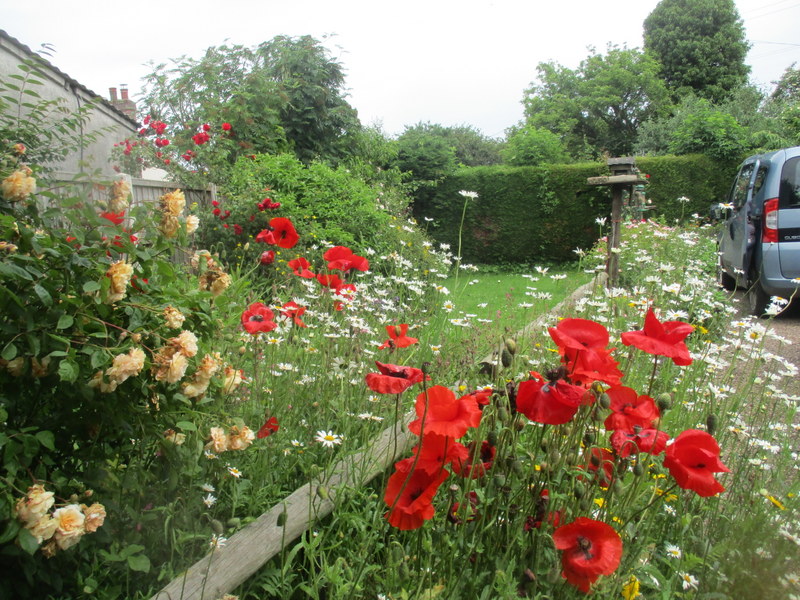 been that quite a few sawing sessions have taken place, as activities on the cropping side stood still, and the woodpile in the 'logs-istics' centre has built up nicely, as has the supply of 'small wood' to burn with the hardwood logs to keep a decent fire going in the woodstove -- warms the cockles too
----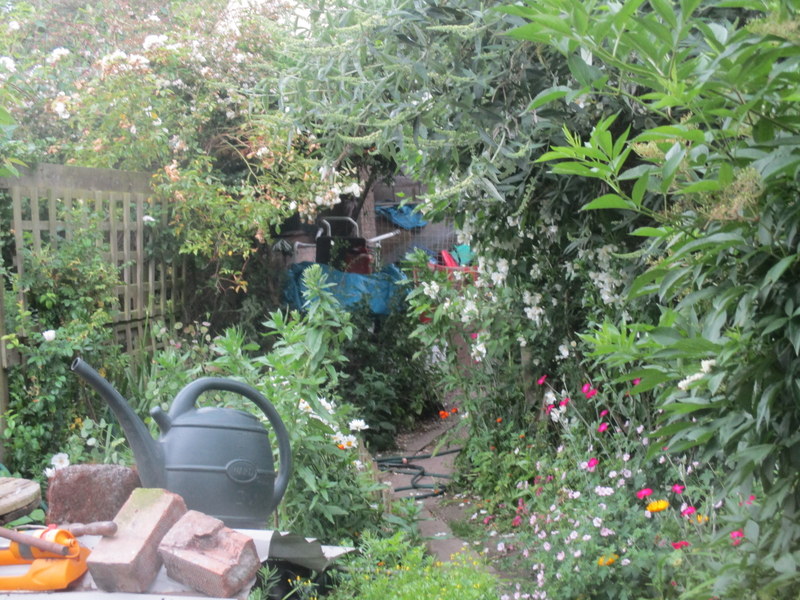 'Chainsaw heaven ---- ?'  
 A closing-down sale of a big-ish hardware store in a country town about fifteen miles away proved to be an irresistible opportunity to buy a cordless chain saw for just over £100 - not a bad price at all, and now bringing the 'chain' of chain saws here up to seven --- One, though, is pretty defunct, another old and 'in reserve', leaving the current two which are active and in good fettle, another which is brand new and 'in stock', as the current main electric saw was a relatively cheap buy from a supermarket, proving to be so good that another was bought whilst they were on offer. Then there's the new cordless battery saw and a little-used petrol saw, little-used as it's a little bit 'physical' to start - a younger person's saw, maybe.
'Un - human times --- ?'
Because of inherent pressures (eg. hyped up competitiveness - ?) in today's culture, the pressure's been on to, say, make big dosh, maximum profits, seemingly focusing then attention strongly on the shorter term, by default then, it's said, under considering longer-term effects and consequences. A potential casualty area for instance could well have been human qualities such as 'fellow feeling, sociability, generosity of spirit, human warmth, particularly maybe for those prone to be influenced by 'mass cultural' effects' (and a recent report stated that younger people are finding 'human contact' relationships difficult, presumably an effect of 'screen life' - ?) - and so the 'human' side of life can be diminished.
It's possible too that in a rational, scientific age, non-measurable qualities and values (eg.s loyalty, trust ) have  then been under represented, potentially then causing 'limited' and even negative effects. This is more or less what John Lane was saying in his book Timeless Beauty,(Green Books), an example quote of which is :
 '----- so Europeans were torn from their roots and cast adrift in a pathless and de-sacralised universe'
Maybe then, there is added reason for people to experience 'inner restless insecurity' ---- ? And in the book A Vision of Nature, the world's environmental problems and crisis are put in a perspective, with Michael Tobias, the author, arguing that such an ecological crisis is the externalisation of an inner malaise (i.e. in man ), and which won't be solved until such time that there's a spiritual revival in Western-style societies. Maybe, though, the spiritual promoters 'shot themselves in the foot' in adopting heavy conditioning methods to 'spread the message' - ? Plenty of 'big picture' food for thought - meat and, erm, drink for freerangers -? , and indicating a need to reach beyond any limited dimensioned 'it's all about money' analysis --?
'Dark satanic mills' re-visiting ---- ?'
,
The aforementioned pressure has too seemed to have resulted in pressurised and controlling management approaches, virtually trying to 'force' staff productivity and hence profitability, using aggressive and heavy controlling measures on staff, as has been reported in the press. In some instances such heavy pressure on staff has apparently even resulted in staff suicides, surely not exactly a too desirable outcome from a human point of view, and maybe a 'tip of the iceberg' effect in terms of the unpleasant working conditions it's been reported many staff have experienced/are experiencing (eg.s demanding and relentless work targets, close control in the workplace).
Many small employers working closely with staff, often more as a 'family' style group, do not though practise such 'heavy control' management styles (called 'theory X' styles). A group of longer-term effective staff managers in agriculture in the UK, for instance, were found by research by this author to almost to a man/woman practise inclusive and suppportive management styles taking into account individual employee inner motivation – the theory Y style.
'Humanity re-asserts ----- ?'
And now an industrialist in Italy calling himself a 'humane capitalist' has shown that larger scale operations can benefit significantly from the inclusive, caring approach, resulting in far lower staff turnover rates , more care from staff in the workplace and more committment to the company, as well as higher productivity rates over time, all of which could also be presumably considerably better for the longer-term health of managers' souls - (and stress levels?) ?
And guess who's been visiting the 'humane capitalist' for a few days - non other than Mr. Bezios, the Amazon maestro, with one or two of his cohorts - said to be the richest individual in the world, but also the founder and operator of an outfit that's been linked with 'the dark, satanic mills' vision for staff, treated as they were/are with 'heavy control' management. Maybe - and hopefully - his operation will now become more of a 'light, heavenly' experience for his people, as it appears to be for the Italian humane capitalist's staff - ?
'Modern karma --- ?'
And of course it's not just for the 'ordinary employees' benefits - the way things are organised and worked rebounds also on those who are calling the shots, who if they are on the 'money manic' trail, and making a sort of 'hell' for their staff, are also making the same for themselves, even though their 'super levels of material gain' may to some extent disguise the fact - ? Those small rural employers operating their longer-term successful 'people caring' management operations, as mentioned above, strongly rated the fact that this form of 'positive humane management' gave strong personal returns of satisfaction, security and fulfilment to themselves.
Further recent evidence for the longer-term positive effects of supportive, caring management styles comes in the form of recently reported research from Exeter University (UK) finding that 'bosses with empathy and integrity increase staff productivity', to which could no doubt be added, 'and their own well-being'.
 Another research report indicated that over-working was counter-productive, and that in fact often shorter hours increased productivity. It's interesting to note that the research results tend to focus still on business productivity results -relatively few for instance focus on 'well-being', social cohesion or human health. Was it the small country of Bhutan that produced as its national aim 'Gross National Happiness' rather than 'Gross National Product' - ? Maybe the results quoted above indicate early steps towards this wider vision - ?
'Gross un-national micro-holding well-being ----- '
Small life - very small life -continues in it's reasonably 'well-being-est' form here at the micro-holding, boosted by further reported research results that 'being at one with nature for two hours a week boosts health' (Monitor of Engagement with the Natural Environment survey). Crikey, it could be an overdose job here ---
There are quite a few areas and sources of satisfaction to be had leading a life of some self-reliance and direct involvement with life supporting activities in a natural environment, not least a sense of 'freerange independence' along with scope for some escape from what's been called 'the tyranny of the mind', particularly evident in the afternoons in the green oasis that is the 'Retreat' area, with its own particular brand of peace. Not of course a life of 'fame and fortune', but 'so what?' - maybe a life of quiet fulfilment might not be too shabby ----- and 'just what the doctor ordered' ----- ?'