'Fulminating mildly ---- and grumbling just a bit ---- '
 The months of October and November here in the UK have been never-endingly wet, with some poor folks particularly in the north of England suffering damaging floods. Apparently it's been one of the wettest autumns here on record, and even though here at the organic micro-holding in the UK midlands, the brunt of the wet weather hasn't been too great, everywhere's got a pervasive sense of dampness. Still 'musn't grumble, musn't grumble - could be a lot worse', which indeed it could, and it's probably 'good for the soul' to have to buckle down and endure some adverse conditions, just as long as they're not too adverse ---- Some of the souls here in the UK with a reputation for 'taking the rough with the smooth' and taking it 'on the chin' and getting on with it, are farmers in the north of England, where conditions such as,say adverse weather, can often be against them,  so they get some useful practice at dealing with adversity ----
Autumn has been the time for maintenance on the micro-holding, so between the showers there's been quite a bit of hedge cutting and trimming and lopping of branches grown too long. The new cordless chainsaw has come into its own, as the front hedge in front of the conservatory had grown too high and had to be lowered by a couple of feet or so - quite a job in itself and producing a lot of 'trash' to be burnt. The cordless saw was the tool for the job, although ideally it was a touch too heavy with the added weight of the battery, but hey, 'perfection is the far-off goal' ---'musn't grumble' -- At least there's 'winter woods' walking to enjoy at this time of year ----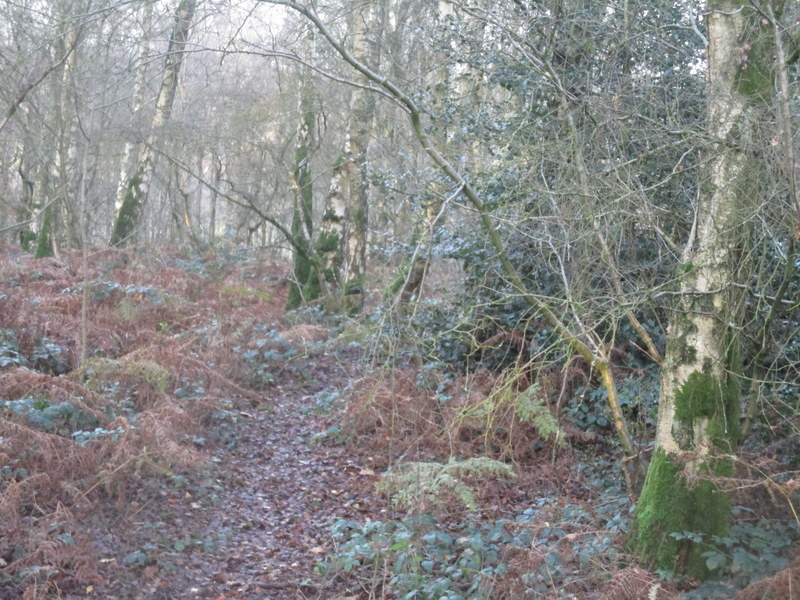 There was an added load of loppings to cope with from the trimming of the tree causing fence damage last spring, so in the end two big 'burns' had to be undertaken, with quite a bit of the material not too wet as covers had been draped over the piles some time before. Loppings can be quite springy and hence difficult to get a steady burn going, so a small amount of free waste engine oil had to be used to help the fires get going, then burning well and producing quite a bit of 'fertiliser' - wood ash which is both a potash fertiliser and also a mild alkali substance, helpful in terms of keeping the growing soil from getting too acid, impairing then plant growth.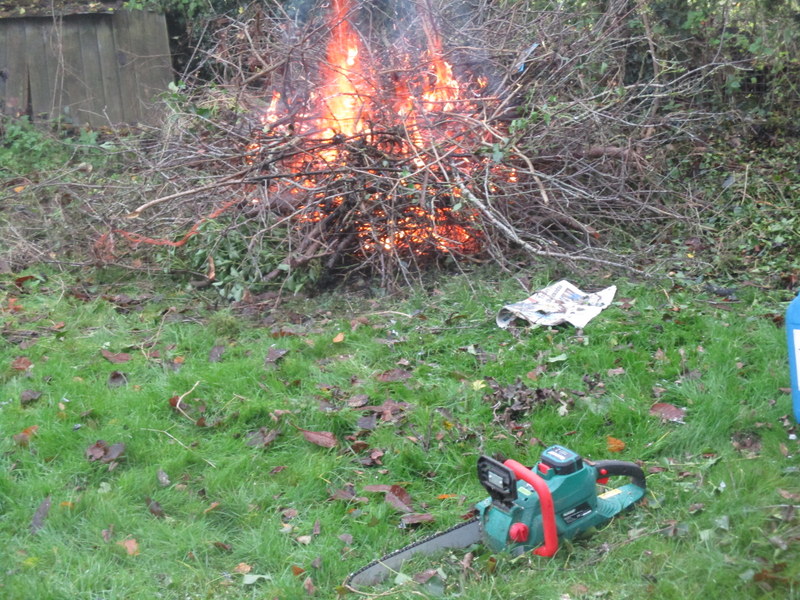 'Healthier eating --- ?'
The 'strange' growing season - first half dreadful, then a good second half - finally produced some good produce, particularly the celery, of which there's still half a bed to use, plus there's some winter greens now which looked unlikely for quite awhile earlier in the season. The celery has proved useful and tasty as a cooked veg and also for home-made soups.  Swedes too have had a 'miraculous recovery' and are looking good, beetroot have been reasonably plentiful and potatoes have lasted a bit longer than expected. The poor onion crop has now been used up, unlike many a year in the past in which the onion crops provided produce for the whole year, and the autumn planted onion sets have gone in late due to them being forgotten about, with a rigid clear plastic sheet over them so hopefully they'll survive, and come the spring 'thrive'- they usefully come for use around June time, which is handy.
The last of the potatoes have not long been dug up - they will have lasted close to six months, so, all things considered, they've not done too badly, probably helped significantly in the poor spring growing conditions by being under cover. Now at the end of November the last of the tomatoes have just been picked, lasting from first pickings in mid july and what a 'taste-full' crop they are - they generally knock spots off supermarket supplies. It probably helps that they're grown in home-made organic compost, mixed with good old-fashioned earth, rather than in liquid chemicals --- ? Wonder if they're healthier eating?
'Musn't grumble --- ?'
Crikey, are the firms a body has to deal with getting even more into 'big-itis' ways, seeing themselves 'automatically' in the 'big' position, therefore relegating individual customers to the 'small' position-? It certainly seems so here with several recent brushes with commerce proving to be frustrating, un-edifying and less than satisfactory. Firstly the half yearly water bill, plus then a follow-up 'late payment' reminder, gave the distinct impression of getting a bit of a 'telling off'- and a bit of a 'heavy' message that seemed to suggest that they'd be pretty happy if the bill was paid twelve months in advance. Cheeky blighters -they do seem to come over as wanting things just to suit themselves --- Then a letter arrived indicating that the credit card had been suspended, due to forgetting to pay a minimum a (small) £24-99p balance, which apparently on contacting this bank, is a 'sin', so another 'parental style' telling off was in the offing, with them wanting to know the reason for such a gross misdemeanour ---- Maybe they could take themselves just a touch less seriously, with a bit 'lighter', more amenable approach - ?
'Hello, any human beings there ---- ?' 
Then, the strange process of moving to a different broadband supplier ---- It started with an interesting e-mail from the current supplier indicating that they were 'updating' the service. On closer inspection, this proved to be a euphemism for wanting to introduce price increases in all four of the service areas - not great news, and with motivation then quite high to make a switch due to their attempts at a 'sneaky disguise' of the overall fairly massive price hike.  Another supplier was identified which was offering a good discounted service deal for a year, after which the price would be at the level of the previous supplier before any price increase. The move though proved to be un-straightforward, with four phone calls to them having to be made before it completed - they just didn't seem to do the things they said they'd do - ?
Maybe there is an opportunity for someone to start up a consultancy on 'humanising contact with customers' which then hopefully would leave customers feeling they'd been respected -they're an important element to a business. aren't they?  -rather than disrespected - ? One or two large energy companies have lost large number of customers - maybe the 'penny hasn't quite dropped' with them - ?
'Grumbling ---- not---'
Faith was restored somewhat on visiting a local builders merchant operation in search of a heavy duty tarpaulin - the structure that was originally a small polytunnel and now a storage area needed a stronger covering - a sales assistant pointed out the area of shelving to look at, then eliciting a gasp from yours truly at the price - £70. 'Hang on' said the assistant, 'let's see what we can do', and on manipulating the till briefly, came up with a £45 price tag -goodo - 'if you don't ask --- ' Not everyone's as lucky as the recent lottery winner in the south of England who went and won £105 million the other day . Seems a heck of a lot (but not to a billionaire - ?!) - could though seem better to put a top limit on the amount that can be won and spread the winnings out a bit more? Wouldn't fit the modern mainstream mantra of 'big' and 'biggest is best' - not quite so 'sensationalist' as '£105 million'? 'Big' maybe 'noticable' but it's surely got to be debatable as to whether it's best - ? Some might argue, like the author Robert Pirsig, that 'quality' lies with 'small', and as Fritz Schumacher wrote, 'small is beautiful'-----
'Big' is secure ---- ?'
'Big' can be a strategy to cope with insecurity, collecting together in a grouping for safety, as some are suggesting is the case for 'remainers' in the current UK 'Brexit' process of the UK leaving the EC. If the world is going 'big', the argument goes, and there are no doubt an increasing number of large concerns, commercial and otherwise in the world, then it's important to become part of a big grouping for safety and security. Maybe too, not everybody is necessarily conscious of their motivation source - ? The problem for individuals, particularly maybe freerangers, is that as they go through life and increase in experience, both positive and negative, and then build their own internal strength, then able to operate more in the 'freeranger' mode rather than any particular 'mainstream' mode, an increasingly 'grouped' society is unlikely to help their 'freeranger' cause.
Maybe this type of analysis could help to explain the rise of the 'youngist' type cultures, but then limiting any more 'freerange' influences - ? Some, for instance, would say that 'salvation'/ fulfillment and the like for the human race can only come from within the individual route, rather than any 'mass' approach-- If this sounds far-fetched, which it may do, especially maybe to those of the 'big is best' persuasion, maybe a high-profile supporter, Buddha himself, could help to make the case? :
 'No-one saves us but ourselves : no-one can, and no-one may, we ourselves must walk the path'
and : 'Doubt everything : find your own light'
'Individual security ---- ?'
Maybe 'real security' happens when the individual reaches the 'full integration' (advanced) stage, then connecting with universal energy sources ('Tao'), with a corresponding feeling of being 'at home' - ? And 'man's' salvation' will be via individuals, rather than organisations - ? Whilst unimaginable wealth can seem to be the order of the day, (still can't get the head round that individuals can have thousands of millions), and from this point of view though it can seem that 'everyone is their own island', aren't we all actually 'in it together', as the current process of planet degradation would seem to suggest, and no amount of shutting selves off behind barriers in gated communities, for instance, will solve the situation - ? (it could be argued in fact that it might be a negative factor in terms of people becoming 'more immune to reality'- ?).
'Earthy mill grist ---- ' 
Ah well, all interesting 'freerange' stuff, and 'grist to the mill', but now it's time to get down to earth and go out and re-constitute then re-cover the old polytunnel, not quite making 'something out of nothing' as can be the trend here at the  micro-holding, but still making a decent storage area for forty-five quid, which isn't nearly half bad ---- a bit of a far cry though from those 'billions' ----